Post by JELE A BEKE SZERET on Jan 30, 2013 17:19:44 GMT -7
.NAME. Jele a Beke Szeret; werewolf name: Csillagok

.GENDER. female

.SPECIES. Werewolf, born. Hungarian.

.PERSONALITY. Jele is almost too smart for her own good. She is cunning, wicked, and sinister. Her mind and her mouth, however, are directly connected. Most of what she says is not filtered and she is quick to insult and berate her enemies or those she finds lesser than her. Despite her quick temper and spitfire tongue, which can make her seem emotional since she is easily angered, she takes no emotional ties with anyone and finds it hard to create lasting friendships or relationships. Her weak spot is allowing anyone to break down her walls and get past her rough and tumble exterior. She is often seen as a temptress or seductress as she can easily hold a flirty relationship with someone for the sole purpose of manipulating them for what she wants.


.APPEARANCE. Jele is the ideal body type for a female. She has long, roving legs that make her look model-esque and match her deep, riveting curves to create the body type that most every woman longs for. Her wolf pelt is a palid white, one that almost has a hint of bleaching to it, a sinister white that doesn't speak of purity but instead of sin. Her eyes are a dark green with flecks of brighter glittering green. There isn't a spot on her white coat, minus the assortment of battle scars that she has accumulated over the years from fighting and parring.


.PAST.Her mother, a simple werewolf who lived life as a loner, had her at only twenty years old. Her mother was young, and her liter failed almost completely. Jele was the only whelp of five that survived the birth, and her mother kept her on close watch. However, her mother was immature, as she was a single mother and impregnated herself carelessly; she was still off toying with men and dragging her daughter around to watch. The difference between Jele and her mother, however, which Jele learned at a young age, was that her mother was always emotionally attached to the men she played with. It never resulted well when they used her and abused her, and thus, Jele told herself she would never settle down, not for a minute. She hated her mother; she would never end up like her.


[/size]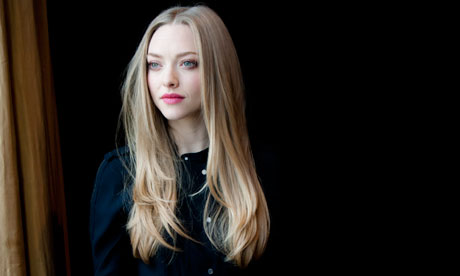 I know this is Amanda Seyfriend, lol. In human form, Jele is around 5'8" and has large, long white blonde hair, pale skin, and red eyes. She has colored contacts however, and often covers her irises with a more natural color, like brown or gray.